Welcome to our guides section
Whether you want to find information on retirement planning, investment or ISAs you will find a guide that suits your needs here.
Do you require more information or expert insight? To have an independent discussion please ring our Director, Graeme Atkinson, on 0161 233 0388.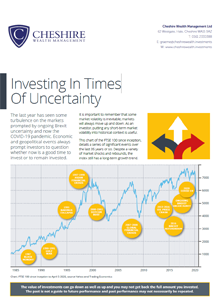 The last year has seen some turbulence on the markets prompted by ongoing Brexit uncertainty and now the COVID-19 pandemic. Economic and geopolitical events always prompt investors to question whether now is a good time to invest or to remain invested.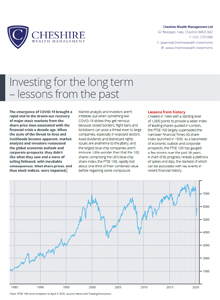 The emergence of COVID-19 brought a rapid end to the drawn-out recovery of major stock markets from the share price lows associated with the financial crisis a decade ago. When the scale of the threat to lives and livelihoods became apparent, market analysts and investors reassessed the global economic outlook and corporate prospects; they didn't like what they saw and a wave of selling followed, with inevitable consequences. Most share prices, and thus stock indices, were impacted.